Smart Specialization Theory and Practice. Regional Planning and Development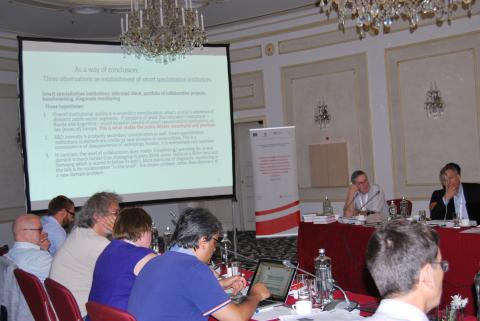 The Executive Agency for Higher Education, Research, Development and Innovation Funding (UEFISCDI) organized during 3-4 September 2015, a workshop for discussing and planning the future volume Smart Specialisation Theory and Practice. Regional Planning and Development.  
In the context of the Smart Specialisation program of the European Commission, the Agency has embarked on an ambitious academically project, aimed at having a real policy impact, namely writing a book about smart specialisation in a comparative context.
This workshop, coordinated by Professor Slavo Radosevic (School of Slavonic and East European Studies, University College, London) was the first one in a series of three events and it aimed at debating the ideas for the future book, discussing the first chapter drafts, collecting suggestions and feedback in order to integrate the most suitable proposals, while having a constructive dialogue.
The authors involved in the project, coming from various environments (academic, economic, institutional etc.) analysed several country specific approaches to Smart Specialisation, integrated analytically global value chains and international dimensions into Smart Specialization perspective and explored the institutional preconditions for implementation of Smart Specialisation strategies.